The local boy turned White House national security adviser is taking on the Garden State's Trumpiest Republican,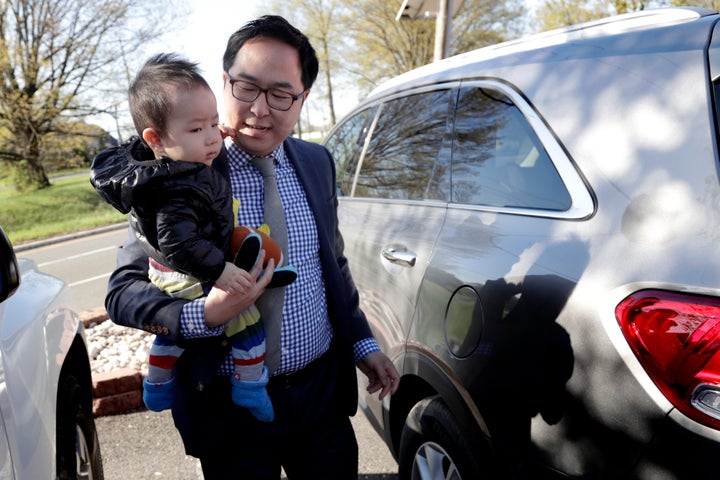 MOUNT LAUREL, N.J. ― Andy Kim really wants you to know he's from New Jersey.
The man he's trying to unseat, Rep. Tom MacArthur (R-N.J.), is trying to convince voters otherwise. MacArthur and his allies have attacked Kim, a son of South Korean immigrants and a former national security aide to President Barack Obama, as a D.C. elitist and an outsider. The New Jersey Republican Party described him in campaign mailers as "Real Fishy" ― the text
printed
in a typeface called Chop Suey ― next to a photo of dead fish on ice.
So Kim makes sure to remind voters in the state's sprawling, largely white 3rd Congressional District that he's a South Jersey resident at heart. His family dined at the Friendly's by the old
Marlton Circle
, the traffic-clogged intersection of Route 70 and Route 73. His first job was across the way, at the cafe in the Barnes & Noble. He used to ride his bike over to the Tunes music store by the AMC Marlton 8 to buy used CDs, which his toddler son now thinks of as shiny Frisbees. He went to his senior prom at a suburban hotel with a highway view, and he's a fan of
Wawa
, the nation's best convenience store.
Kim, 36, is part of a slate of young, diverse Democratic political newcomers nationwide who need to both fire up the Democratic base and win over a few conservatives and Trump supporters to turn their districts — and Congress — blue.
He just has to convince voters in New Jersey's 3rd that he's one of them.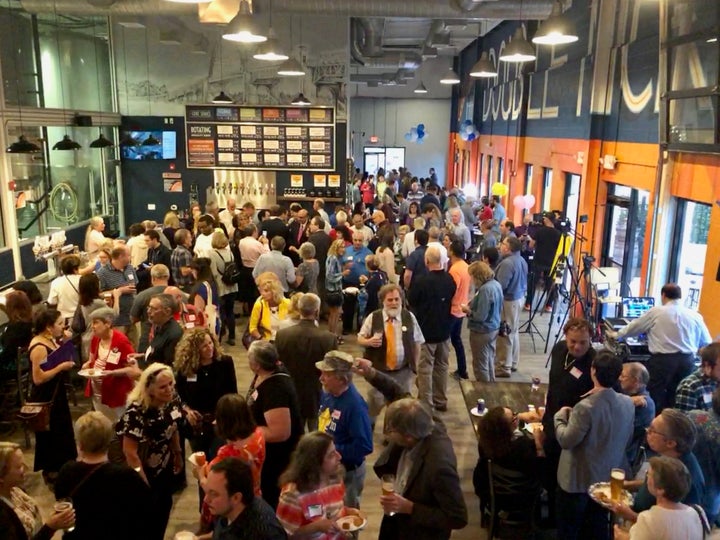 In some ways, that should be easy. Kim is the classic local boy who made good. He won a Rhodes Scholarship to study at Oxford, where he met his future wife Kammy Lai. He worked at the State Department, served in Afghanistan as a civilian adviser to Gen. David Petraeus and John Allen, and wound up working as a national security adviser at the White House. If he wins, he'll be the first Democrat of Korean descent elected to Congress.
But MacArthur has tried to turn Kim's time outside the Garden State against him. At the root of the attacks on Kim is the fact that he's spent his adult life outside of New Jersey. Kim moved back to his home district a couple of months into the Trump era, trading his role running an
organization
that monitored the Trump administration, and a duplex in northeast D.C., for a home surrounded by orchards in Bordentown, a town of 4,000 that borders the Delaware River. His family is living only on his wife's salary. Raising his kids back near his parents, Kim says, allows him "a little bit more sleep than I would have otherwise," though he said the campaign has "consumed every aspect of our life, and it's probably the hardest thing we've ever done together."
MacArthur's strategy is to portray Kim as an out-of-touch outsider, a somewhat incongruous plan for a man with an
estimated
net worth of $53 million who was initially tied to the district through his vacation home, spent $5 million of his own money on his first race, and recently
dumped
$1.4 million into his own re-election campaign. At a recent debate, the Republican claimed that Kim's "wife and children live in Washington, D.C." Kim countered that he'd dropped his kids off at day care that morning.
MacArthur says he doesn't control ads from outside groups, and has parried questions about the racial subtext of the attacks by bringing up his two adopted Asian-American children. "Does he think he loves his Korean children more than I love mine?" MacArthur said. "Does he have something against adoptive parents? Because my children are the world to me."
To suggest the GOP mailer featuring raw fish and the Chop Suey font was racist "is race baiting at its worse, and as a father of two Korean children, I think it's offensive," MacArthur
told
The Philadelphia Inquirer's editorial board in an interview published last week. "Some fish on a piece of paper is suddenly racist? What is racist about a picture of fish? Now we're politicizing fonts? It's not a racist font, it's a font meant to stand out."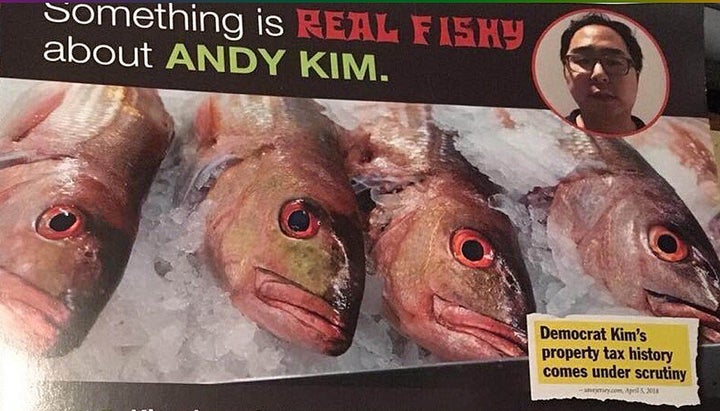 But recent ads have dug in on the attempt to otherize Kim, painting the mild-mannered former bureaucrat as some sort of Antifa extremist. MacArthur's own campaign has
ads
that declare Kim a "Radical Resistance Group Founder" over footage of black-clad protesters. The ads make a weak attempt to associate Kim with Mumia Abu-Jamal, the black activist convicted of murdering a white Philadelphia police officer in 1981, and Bill Ayers, the Weather Underground domestic terrorist whom Republicans tied to Obama during his first campaign a decade ago. A Republican super PAC ad warns voters that Kim is "not one of us."